GOVT ITI GHANSAVANGI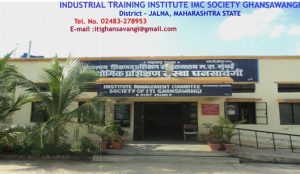 About Institute:- Industrial Training Institute, Ghansavangi
Institute Address:- Rajegao Road, Ghansavangi, DistJalna
Name of the Principal :- Mr. BhavaleG.S.
Contact Details of Institute :-9405813134
Contact Details of Institute :-02483-278953, E-mail – itighansavangi@gmail.com
ESSAP – Activity, Goods activity Photograph, Tree Planting, Rain Water Harvesting, Tool Kit Distributed,
TotalArea – 20000Sqm.
Constructed Area – 5357Sqm.
      9.Total No. Of Trade & Units – 5 Trade, 10Units
1.   Units Proposed in Strive
New NCVT Trade & Units Proposed–

Refrigerator & Air Conditioning
Machinist
Motor Vehicle
Mechanics Electronics

Short Term Courses – Welder, Solar Panel Installation.
MOU With :- M/s. Vinodrai Engineers Pvt. Ltd., Jalna.
Procurement Plan :- Procurement Plan Ghansawangi final
Grievance committee :-
Grievance committee From :- https://docs.google.com/forms/d/e/1FAIpQLSfGnIxatCmu2O69Nc5zfw5WCBAeyDTw7-Y49UqMCbxlj_akFg/viewform?usp=pp_url
Complaint tracking and disclosure format :-
Contract Award Notice Details